Are you struggling with increasing the number of guests at your virtual sales party scripts? Do you have lurking guests who just join the virtual party and don't engage at all? Or maybe you want to increase your sales through virtual sales parties but you don't know how? Don't worry – in this article we'll discuss how you can set up your online virtual party script successfully.
So, what will make your event successful?
Prepare Your Guests For the Event
When you have a virtual party, you don't want to just start posting about it the day of and expect people to come.
No, when it come to virtual parties, anticipation is everything. When your guests anticipate that you're going to have an event, they'll mark their calendars and be excited in the days leading up to the event. When your followers are exicted, they'll be more engaged in the event itself, making for a more successful online virtual party script.
Online Virtual Party Script
To prepare your guests for the event, it's important to post in the weeks leading up to it. No, you don't have to start posting three months in advance – you don't want your audience to get tired of you posting about it. Around two weeks before the event, start doing countdown posts and telling your audience what they'll get to experience at the event if they only attend.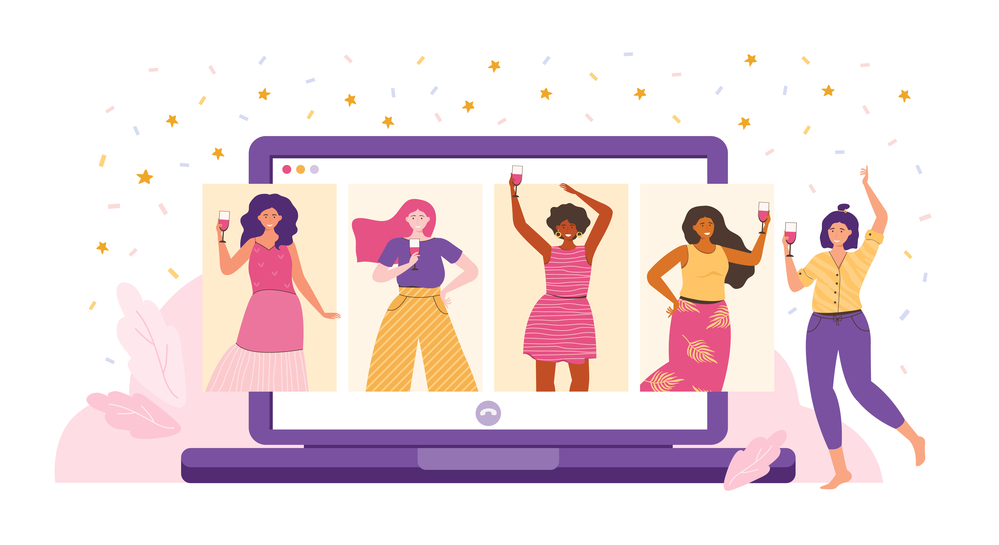 Engagement is Key
You cannot set your online virtual party script up for conversions if your host and guests are deprived of engagement. In any event, virtual or not, engagement is what keeps guests from leaving or getting bored.
There are a ton of ways to put up an engaging virtual sales party scripts for your guests. Try incorporating polls, prompts, or even games! Your online virtual party script doesn't have to be dull.
Create Reusable Posts for Your Sales Parties
You don't have to stress out creating your online virtual party script all from scratch. We suggest that you structure all of your similar online parties the same way. This will not only save you a whole lot of time, but it can also eliminate the stress out of online virtual party script.
With the help of a script, you'll not only be able to automate and reuse pre-structured posts, but you'd also be able to use your energy trying to engage and entertain your virtual guests instead of worrying about what party scripts you're going to do next.
Make Your Guests Feel at Home
Remember that time when you invited your friends over for a pizza party scripts? Or that time when you invited your girls for a girls' night out?
Just like how welcoming you were towards your friends, the same should apply to your virtual party guests. Your goal is to make your online guests feel warm and welcome. This online virtual party script makes them want to engage and think that you're not just in it for the sales.
Besides that, you don't want your guests to feel awkward or uncomfortable, since they won't want to come to future events. Make your party scripts one to remember – but in a good way.
Timing
Determining the timing of an online sales party can be quite confusing. There are people who suggest that it's better to hold a virtual party on the weekends. Some recommend doing them on weekday nights. So, when is the optimal time to hold your online virtual party script, really?
The main thing here is to determine the times when most people go online. We suggest that you hold your online party after dinner anywhere from around 7-9 p.m. Most people are done with work, school, and other commitments at night, but it's early enough to where they can still go to bed at a reasonable time.
Of course, when in doubt, ask your audience which time they prefer with a poll. It's a great way to engage your audience leading up to the event, and you'll ensure that you're holding it at a time where the majority of people will be able to attend.
Length
Virtual sales parties are just like sales funnels. It does not take only one step to convert your audience. It requires multiple systemized steps for them to get to know you. This warms them up and makes them feel comfortable along the way. Most importantly, it builds trust.
So, a 30-minute or 1-hour party will not suffice. We suggest that you take your guests to a multi-day party. This will allow them to get to know you and your products and feel comfortable enough to trust you. Who knows? The length of your virtual party may be the deal maker.
Follow-Up
Don't forget to follow up with your guests after your virtual party. Just because the party's over doesn't mean that you cut ties with your guests. Your connection with them may be valuable. For example, some might have an interest in hosting your next party. Others may display curiosity about your products but don't have enough funds to afford them. Still others may want to become a part of the team. You'll never know if you cut ties.
Create a Successful Event with Go Party Scripts
We mentioned already that one of the keys to successful parties is holding ones you can do over and over again. The easiest way to do that? Go Party Scripts. At Go Party Scripts, we offer scripts containing multiple post variations, fun games, and more. Everything you need to get started creating an enjoyable virtual event is just a click away. Check out our scripts now.

Sources: